2013 Summer Issue - BASS ANGLER Magazine
074470721703-23-03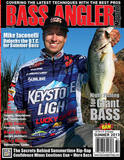 Back Issues
2013 Summer Issue #2
BASS ANGLER Magazine – Better Bass Fishing Starts Right Here
BASS ANGLER covers the latest tips, trends and tactics with one purpose – to help you catch more bass.  You work hard and you need a bass magazine that works hard for you. Look no further; BAM delivers with more feature articles from the world's best anglers delivered to you every season.
If you could only have one bass magazine – BAM is the one!
Summer 2013 (Vol. 22 Issue #2) Summertime means covering water, tossing topwater and fishing heavy vegetation. In this issue, you will learn a lot: follow Ike with his Summer D.T.C plan, punch with Charlie Weyer, flip craws with John Crews, cover the current with Terry Bolton and throw a frog with Chris Lane.
The fishing doesn't stop there. You will learn spinnerbait tricks, buzzbait tips, late summer patterns, night fishing and that's only the beginning. BASS ANGLER brings you tried and true techniques you need - it is the magazine that works as hard as you do!
Pick up a copy today and see why BASS ANGLER Magazine is the finest bass fishing publication available. Visit www.bassanglermag.com for more information.